Deck Washing For Your Highland Park Porches & Patios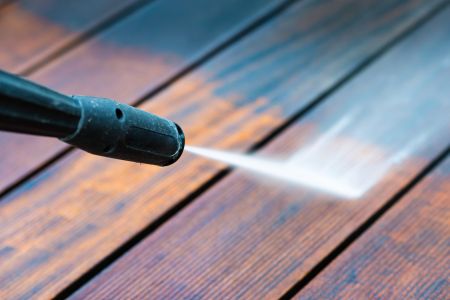 Having a nice deck to retreat to for a breath of fresh air or a drink of iced tea is something we can all appreciate. Keeping your deck clean and healthy so you can continue to enjoy it is just a click or call away with Powerwash Plus's deck washing service here in Highland Park.
We're a licensed and insured pressure washing contractor with years of experience in deck washing and pressure washing in Highland Park. We know just how to safely clean any of your exterior surface areas with finesse and perfection.
Our decks add value to our homes and business and are always a huge selling point to any property. Everyone wants a deck to entertain guests, have a barbeque, or enjoy their coffee! Just like your living room though, decks need to be properly maintained to continue to serve you and function properly through the years.
Proper Deck Washing By Professionals For The Best Results
Pressure washing is best left to the professionals, and when it comes to porch and patio washing, no one does the job better than us. One of the things that our years of deck washing experience have taught us is that there are specific ways to clean different surfaces, and deck washing must be done with a delicate hand.
We make sure to safely pressure wash any deck so as not to damage the wood or protective sealant. We also use cleaning solutions that are safe for your lawn and won't harm people or pets.
An untrained pressure washer may use a more powerful stream of water than what is needed, and this can splinter and chip away wood. Using the wrong cleaning agents can also cause a bit of a disaster by ruining your landscaping. Put all those worries to rest and hire Powerwash Plus for your deck washing in Highland Park!
If you're in need of more than just professional deck washing, our experts can help beautify your property with many other exterior cleaning services. We offer precision paver cleaning, roof cleaning, house washing, and more! Contact us, as we'd love to discuss how our team can best help you.
Deck Washing Gallery
Latest Cleaning Tips & Articles
The Benefits Of Professional Gutter Cleaning

When most people think of pressure washing services, they usually start to think of how dirty their driveway is, or perhaps their roof and patio. But one area that's too often neglected is the gutters that surround their house. Gutters should have a special place in […]

Rust Removal Tips For Your Home

Rust develops where water with high mineral content is present, when certain types of pest control substances or fertilizers are used, or when metal comes into contact with concrete surfaces; for instance, patio furniture on your pool deck. We found the right balance of cleaning product […]
Get a Free Estimate Today With a Trusted Pressure Washing Company