Your Highland Park Gutter Cleaning Specialists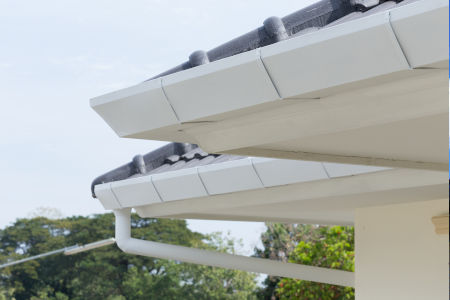 In Highland Park, a clean gutter is a happy gutter! When they're clogged, you can't go wrong by hiring a pro for gutter cleaning. After all, if debris is in the way, the water can't properly be redirected from exterior surfaces.
Keep your gutters flowing like they should by hitting up Powerwash Plus for professional gutter cleaning in Highland Park.
Clean Gutters Prevent Exterior Surface Damage
Unless your roof has large overhangs, chances are you have a gutter system. They're specifically designed to redirect water away from your home's exteriors, and even interiors.
We may not think about gutter cleaning often, if at all. Until that is, signs that they aren't functioning well due to obstacles become visible. These signs include:
Leaky roof
Water and rust stains along the siding
Gutter cracked or sagging
Water running over the top of gutters
Water not emerging from the downspout
Water damage present on interior walls and ceilings
Routine gutter cleaning by skilled professionals can help prevent those scenarios from happening!
Gutter Cleaning Makes Your Home Less Desirable For Unwanted Guests
We love birds, but we don't want them nesting in rain gutters. Why? Because their nests can obstruct water flow. Don't worry, we won't harm the birds or their offspring during the gutter cleaning process.
While birds don't necessarily fit into the "unwanted guest" category, the following most certainly do:
Mice
Rats
Spiders
Wasps
Bees
Cockroaches
Rodents, insects, and arachnids are big fans of gutter debris. Leaves, twigs, and sticks provide a comfy and cozy place for them to reside. Clogged rain gutters also provide those critters with food and water.
Our gutter cleaning technicians will clean out the debris for you. Your water will flow properly, and those unwanted guests will not find them so enticing. Look to Powerwash Plus when it comes to pressure washing for Highland Park!
Pressure Wash Your Gutters Inside And Out
Our superb pressure washing techs won't just clear the clutter from your gutters, they'll make them shine from the inside, out.
We use soft washing for roof cleaning and other delicate exterior surfaces. We'll do the same when it comes to exterior washing for gutters.
Gutter Cleaning Gallery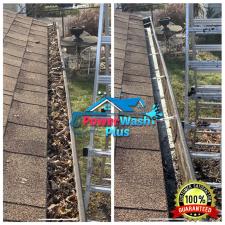 Latest Cleaning Tips & Articles
The Benefits Of Professional Gutter Cleaning

When most people think of pressure washing services, they usually start to think of how dirty their driveway is, or perhaps their roof and patio. But one area that's too often neglected is the gutters that surround their house. Gutters should have a special place in […]

Rust Removal Tips For Your Home

Rust develops where water with high mineral content is present, when certain types of pest control substances or fertilizers are used, or when metal comes into contact with concrete surfaces; for instance, patio furniture on your pool deck. We found the right balance of cleaning product […]
Get a Free Estimate Today With a Trusted Pressure Washing Company