Regular Paver Cleaning For Your Highland Park Property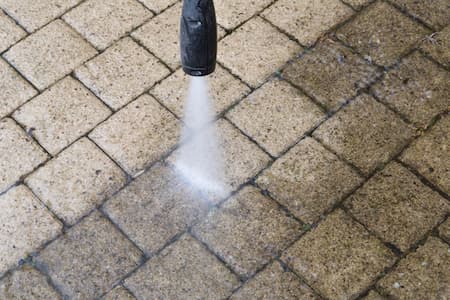 When it comes to professional paver cleaning for your Highland Park home, choose the trusted experts here at Powerwash Plus. Whether you have brick pavers, stone pavers, or something in between, you can rest easy knowing you'll get top-quality service and amazing results when you choose us: the #1 choice for pressure washing in Highland Park! We're confident that we can clean and seal your pavers and make them look as flawless as the day they were put in.
The Benefits Of Paver Cleaning
When we perform our paver cleaning service, we'll blast away unsightly stains and substances from your outdoor pavers with a thorough pressure washing. Routine paver maintenance is important for prolonging the lifespan of the material as well as ensuring they look good for as long as possible. There are many great benefits to professional paver cleaning, and the following list outlines just a few.
Why you should have your pavers professionally cleaned:
It helps boost your overall curb appeal and property value.
It helps maintain the integrity of the material.
It primes the surface of your pavers for resurfacing and resealing.
It saves you time and money in the long run.
Try Our Cleaning Service Before Sealing
If you're considering sealing your concrete pavers, a proper stone paver washing service can help keep them in perfect condition for longer. Paver sealing helps to keep your pavers safe from the inevitable wear and tear brought on by the elements making them easier to clean between professional washings. If you're looking for a little help taking care of the pavers for your Highland Park area home, Powerwash Plus's paver cleaning service is the best around!
Don't have brick or stone pavers but do have concrete pathways and other exterior surfaces? Our amazing deck washing service can help improve your entire deck and patio area of stubborn stains and refresh its overall look and feel in no time flat!
When it comes to paver cleaning in Highland Park, think of Powerwash Plus for all of your pressure washing needs!
Latest Cleaning Tips & Articles
The Benefits Of Professional Gutter Cleaning

When most people think of pressure washing services, they usually start to think of how dirty their driveway is, or perhaps their roof and patio. But one area that's too often neglected is the gutters that surround their house. Gutters should have a special place in […]

Rust Removal Tips For Your Home

Rust develops where water with high mineral content is present, when certain types of pest control substances or fertilizers are used, or when metal comes into contact with concrete surfaces; for instance, patio furniture on your pool deck. We found the right balance of cleaning product […]
Get a Free Estimate Today With a Trusted Pressure Washing Company