Premier Pressure Washing Specialists Serving Lake Forest, IL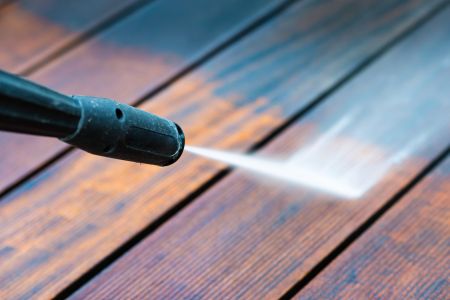 At Powerwash Plus, we pride ourselves on being the most versatile pressure washing pros in the Lake Forest area. Homes are made of all different materials, and we have the knowledge and gear to safely and effectively clean most of them because we aim to be the contractor you count on for all your Lake Forest exterior cleaning needs.
Still, pressure washing is our first and most popular service! It's the gold standard for hard surfaces, like concrete, around your Lake Forest home. It instantly rids them of stubborn stains, slipping and tripping hazards, and dangerous contaminants, pollutants, and organisms.
Pressure Washing For All Of Your Lake Forest Surfaces
The most common areas we wash on Lake Forest homes include:
Pavers
Driveways
Gutters
Fences
Decks
Roofs
...And More!
You can rely on the fully trained, licensed, and insured pros at Powerwash Plus to deliver thorough and damage-free pressure washing results every time. And if your surface can't be pressure washed, we'll not only be the first to tell you, we'll provide an alternative soft or no-pressure wash to get you the stunning results you seek.
When you need a versatile pressure washing pro to cover all your Lake Forest exterior cleaning needs, Powerwash Plus is your go-to choice.
Outstanding Roof Cleaning Done By Powerwash Plus Of Lake Forest
The roof on your Lake Forest home ensures your family's comfort and safety, and regular professional roof cleaning protects and prolongs your roof's life. Because your Lake Forest roof is so important, you can't let just anyone mess with it. The experts of Powerwash Plus have the experience and state-of-the-art equipment to earn your trust and to produce perfect results every single time.
Our innovative solution-based soft wash method delivers an instant facelift to your Lake Forest roof while maintaining its beauty and quality for a long time afterward. Plus, it provides health benefits because it:
Reduces allergens
Kills organisms like mold, mildew, fungus, and bacteria
Eliminates algae, moss, lichens
Wipes out dirt, grime, tree sap, leaves, debris
Clears spiders, insects, eggs, nests
Removes animal and bird droppings
When you need a contractor who cares as much about the beauty and safety of your Lake Forest home as you do, call Powerwash Plus for superior roof cleaning.
Our Latest Projects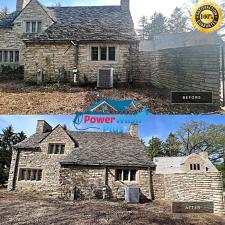 Property Soft Wash in Lake Bluff, IL
Powerwash Plus soft washed this 100+ year old house and privacy wall, revitalizing the property and making it shine again! Our softwash process removed years of organic growth buildup leaving the surfaces clean as can be without damaging anything in the process. […]
See This Project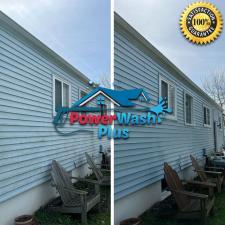 House Wash in Waukegan, IL
We soft-washed the exterior of this home, cleaning the organic staining, dirt and grime accumulated over time. Leaving the home clean as can be! […]
See This Project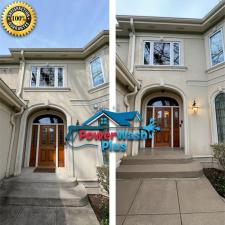 House Wash and Concrete Cleaning in Kenosha, WI
We cleaned the stucco around the whole house and retaining wall in this project, using low pressure on the delicate stucco paired with bio-degradable cleaning detergents, leaving the home clean as can be! We also cleaned the rear patio and the surrounding concrete on the house. […]
See This Project
Latest Cleaning Tips & Articles
The Benefits Of Professional Gutter Cleaning

When most people think of pressure washing services, they usually start to think of how dirty their driveway is, or perhaps their roof and patio. But one area that's too often neglected is the gutters that surround their house. Gutters should have a special place in […]

Rust Removal Tips For Your Home

Rust develops where water with high mineral content is present, when certain types of pest control substances or fertilizers are used, or when metal comes into contact with concrete surfaces; for instance, patio furniture on your pool deck. We found the right balance of cleaning product […]
Get a Free Estimate Today With a Trusted Pressure Washing Company