Soft Wash Roof Cleaning For Your Highland Park Home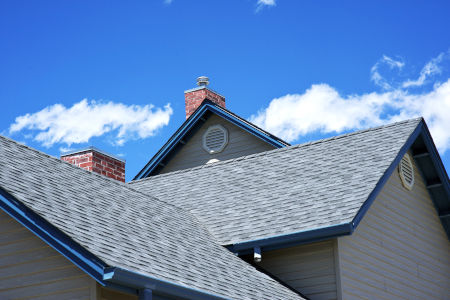 Are you looking for professional roof cleaning in Highland Park? The pressure washing pros at Powerwash Plus provide soft washing services for all your roof cleaning needs.
Our experts utilize soft washing techniques on your home's roof to ensure you're getting the best service possible year-round. We use eco-friendly, biodegradable solutions to break down the dirt, grime, and algae on your roof before washing this debris away.
The soft wash option we offer is a perfect way to keep your roof clean and clear without sacrificing your lawn. Our process leaves your plants and grass intact. If you're looking for a full clean, you can combine our roof cleaning services with our professional gutter cleaning, which also utilizes soft washing techniques to ensure your entire property is cleaned and maintained.
If you're looking for professional soft washing services for your roof cleaning, Powerwash Plus is the best option for your Highland Park home. Our professionals are highly trained to ensure you're getting the best clean in the area.
Try Soft Washing For Your Roof
Roof cleaning is important because it removes the dirt and grime that is leftover from the previous year of weathering. If you choose to clean your roof, you may find yourself going over a surface multiple times because the dirt and debris move back into the cracks and crevices due to shifting winds. This results in an area that looks cleaner than others but it still has dirt and grime that needs to be removed. If you need professional pressure washing in Highland Park, we offer a service that will leave the roof beautiful.
Soft washing is a pressure washing method that is great for your roof because it cleans without removing the roof material. We use a pressure washer that injects soap and water into the surface to loosen dirt and grime. We then blast the surface with water from a low-pressure hose to remove the dirt and grime. This will leave your roof looking like new! Soft washing is the perfect choice for roof cleaning because your shingles will be left intact and you can continue to enjoy their color.
Reach out today for a free roof cleaning estimate in Highland Park!
Latest Cleaning Tips & Articles
The Benefits Of Professional Gutter Cleaning

When most people think of pressure washing services, they usually start to think of how dirty their driveway is, or perhaps their roof and patio. But one area that's too often neglected is the gutters that surround their house. Gutters should have a special place in […]

Rust Removal Tips For Your Home

Rust develops where water with high mineral content is present, when certain types of pest control substances or fertilizers are used, or when metal comes into contact with concrete surfaces; for instance, patio furniture on your pool deck. We found the right balance of cleaning product […]
Get a Free Estimate Today With a Trusted Pressure Washing Company