Outstanding Pressure Washing Services In Libertyville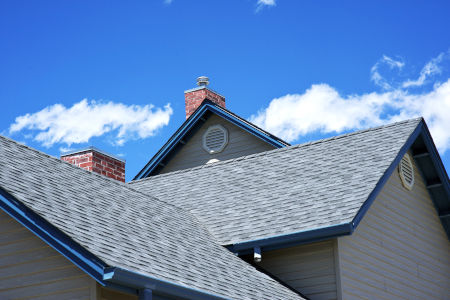 We appreciate that there are DIY pressure washing tools available, but nothing beats the clean offered by a professional pressure washing in Libertyville by Powerwash Plus! Our expertise has helped transform run-down buildings to pristine conditions at an affordable cost.
Experience The Ultimate Pressure Washing Experience In Libertyville
Soft washing the outside of a house in Libertyville has many surprising benefits, not the least of which is that exterior cleaning keeps your home looking its best!
Exterior house washing also protects your Libertyville home's brick exterior, aluminum or vinyl siding, foundation concrete, chimney stack, and other such exposed areas from long-term damage. Dirt and grime are often corrosive and can soften and weaken a brick façade or chimney, or etch and scratch vinyl or aluminum. Having a pressure washing business wash away all that abrasive grit and grime will protect your home's outside walls.
Roof Cleaning Protects Your Libertyville Property
Our roof pressure washing service will remove thick layers of dirt, silt, and grime that settle onto your Libertyville home's roof after a stormy summer season. We will then restore the appearance of asphalt shingles and clay tiles, making your home's roof seem lighter and brighter.
Removing dirt and grime will also ensure all that debris doesn't wedge itself under or around those tiles, causing shingles to come loose and even fall away from your home. A quality residential pressure washing can also help you to note dark areas of the roof, which often indicate soft spots that are in need of immediate repair.
The condition of your Libertyville home's roof can also affect your overall property values! A professional residential pressure washing will:
Enhance the home's curb appeal
Protect the roof from damage caused by grime and other debris
Reveal areas of the roof that might need repair
If you're interested in a company that can offer the best value and customer service in Libertyville, look no further than the pressure washing services of Powerwash Plus! Call our offices today for an estimate or consultation.
Our Latest Projects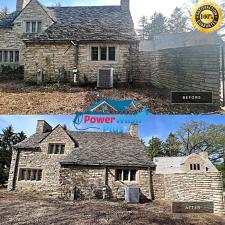 Property Soft Wash in Lake Bluff, IL
Powerwash Plus soft washed this 100+ year old house and privacy wall, revitalizing the property and making it shine again! Our softwash process removed years of organic growth buildup leaving the surfaces clean as can be without damaging anything in the process. […]
See This Project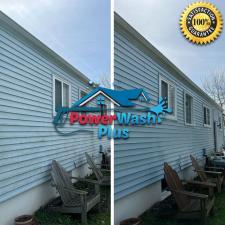 House Wash in Waukegan, IL
We soft-washed the exterior of this home, cleaning the organic staining, dirt and grime accumulated over time. Leaving the home clean as can be! […]
See This Project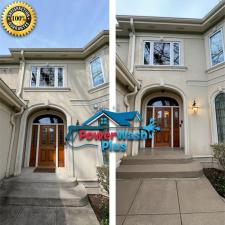 House Wash and Concrete Cleaning in Kenosha, WI
We cleaned the stucco around the whole house and retaining wall in this project, using low pressure on the delicate stucco paired with bio-degradable cleaning detergents, leaving the home clean as can be! We also cleaned the rear patio and the surrounding concrete on the house. […]
See This Project
Latest Cleaning Tips & Articles
The Benefits Of Professional Gutter Cleaning

When most people think of pressure washing services, they usually start to think of how dirty their driveway is, or perhaps their roof and patio. But one area that's too often neglected is the gutters that surround their house. Gutters should have a special place in […]

Rust Removal Tips For Your Home

Rust develops where water with high mineral content is present, when certain types of pest control substances or fertilizers are used, or when metal comes into contact with concrete surfaces; for instance, patio furniture on your pool deck. We found the right balance of cleaning product […]
Get a Free Estimate Today With a Trusted Pressure Washing Company