Trust The Highland Park Fence Washing Pros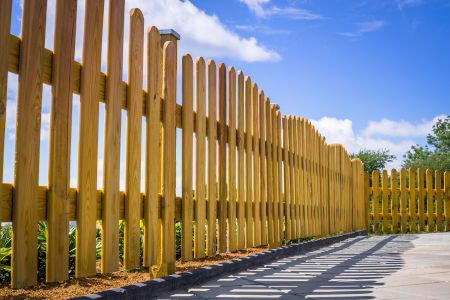 Are you a Highland Park homeowner in search of a reliable fence washing service? Then you're in luck because Powerwash Plus has got you covered.
We handle a wide variety of pressure washing services, from deck washing to full house washing, but we want to talk specifically about fence washing on this page.
You may have a fence around your property, whether it's made of wood, vinyl, or metal. This fence can accumulate all kinds of gunk and grime over time, such as fungus, mold, mildew, and more. If they're not cleaned, the grime can not only make your fence look disgusting, but it can actually eat away at its structural integrity. That's why regular fence washing is so important.
Our fence washing services are second to none! When you purchase our services, you can rest assured knowing we'll make your fence look as good as new.
We take our customers' satisfaction seriously. If for any reason you're not happy with our work, we want to know about it. When you tell us, we'll get to work on providing you with a quick and effective solution. We don't consider our fence washing work done until we know you're satisfied.
How Soft Washing Can Help Fence Washing
We understand that regular pressure washing doesn't work on every type of surface. In fact, it may be too aggressive for some areas around your property. That's why we'll employ a different strategy for delicate surfaces: soft washing.
Soft washing, also sometimes referred to as no-pressure or low-pressure washing, is a gentler pressure washing method. With soft washing, we use very low water pressure, and we combine it with special soaps and detergents. This creates a potent mixture that, when applied to a surface, can eat away at grime and gunk. Soft washing is excellent for cleaning off areas like vinyl or glass without harming the surfaces themselves. The soaps we use for our soft washing are totally eco-friendly, meaning they won't harm your home, your property, or the environment.
Are you looking to improve the look and feel of your Highland Park home? Then call Powerwash Plus today and ask about our fence washing services. Our representatives can tell you all about pressure washing in the Highland Park area and what we can do for you.
We can't wait to hear from you!
Latest Cleaning Tips & Articles
The Benefits Of Professional Gutter Cleaning

When most people think of pressure washing services, they usually start to think of how dirty their driveway is, or perhaps their roof and patio. But one area that's too often neglected is the gutters that surround their house. Gutters should have a special place in […]

Rust Removal Tips For Your Home

Rust develops where water with high mineral content is present, when certain types of pest control substances or fertilizers are used, or when metal comes into contact with concrete surfaces; for instance, patio furniture on your pool deck. We found the right balance of cleaning product […]
Get a Free Estimate Today With a Trusted Pressure Washing Company